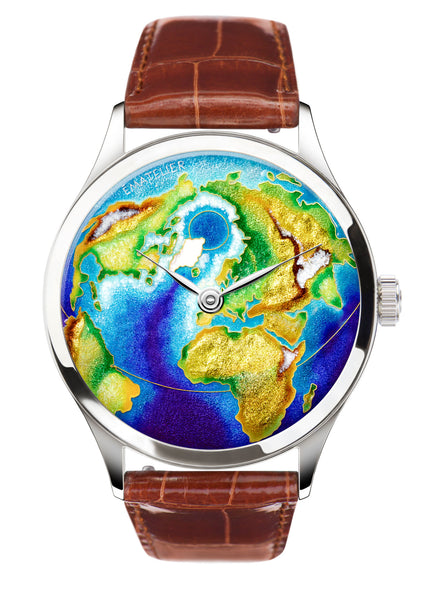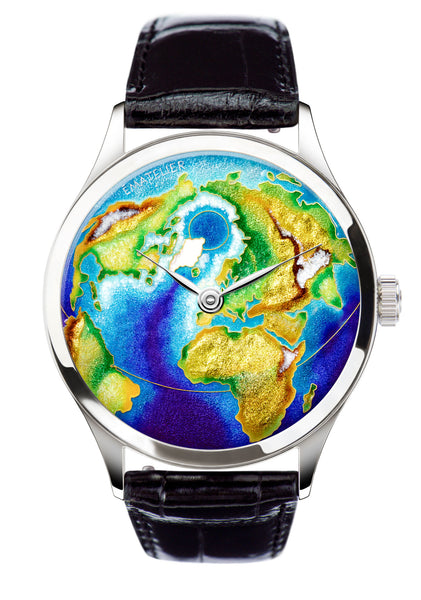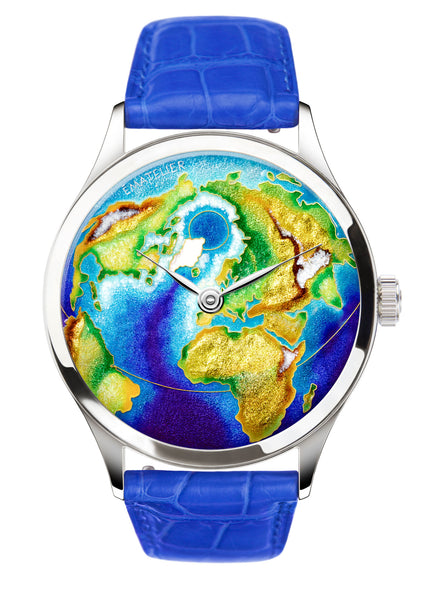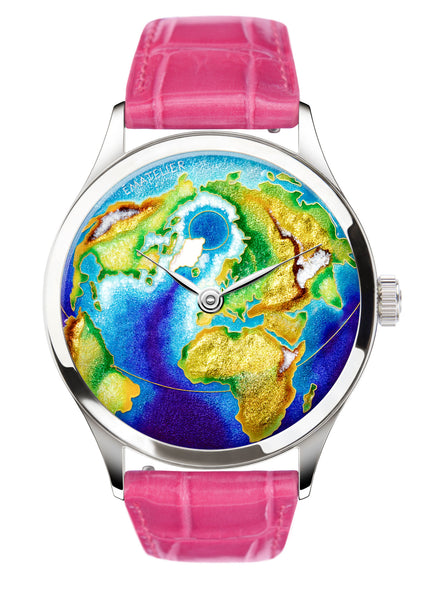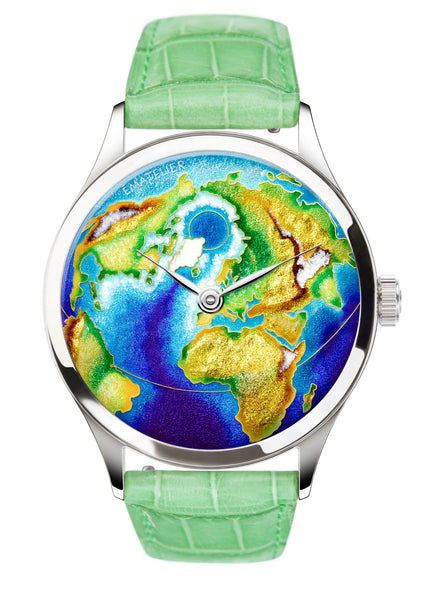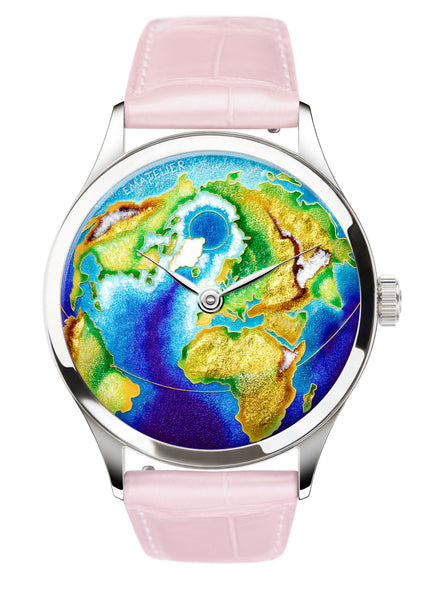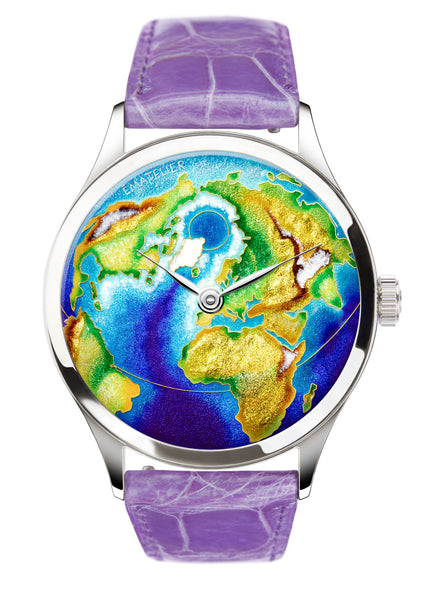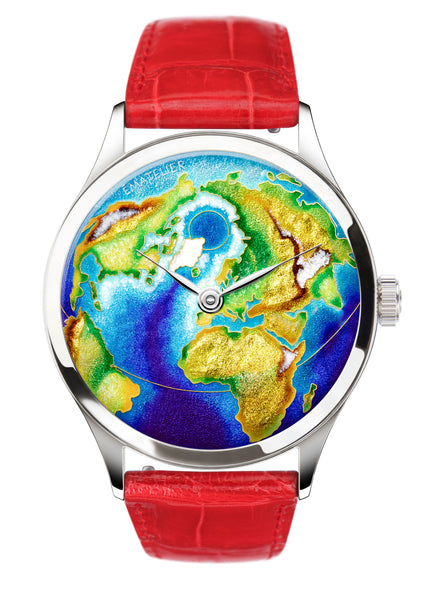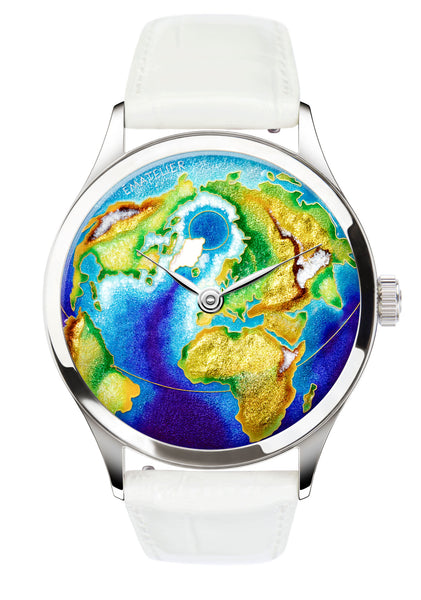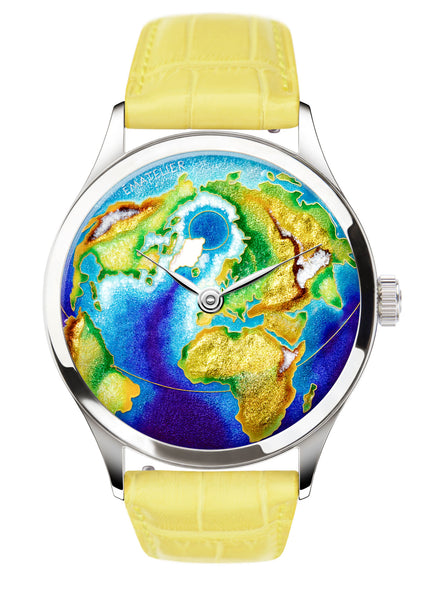 Atlas, Ématelier's first stand-alone timepiece, features a stunning cloisonné enamel dial in addition to finely woven gold and silver foils. A mesmerizing three-dimensional map effect is achieved thanks to careful detail that reflects the planet's actual physical characteristics, including elevation, water depth, and greenery. Sometimes, all you need is a little perspective from above. With the Atlas, you have an aerial view of the whole world on your wrist.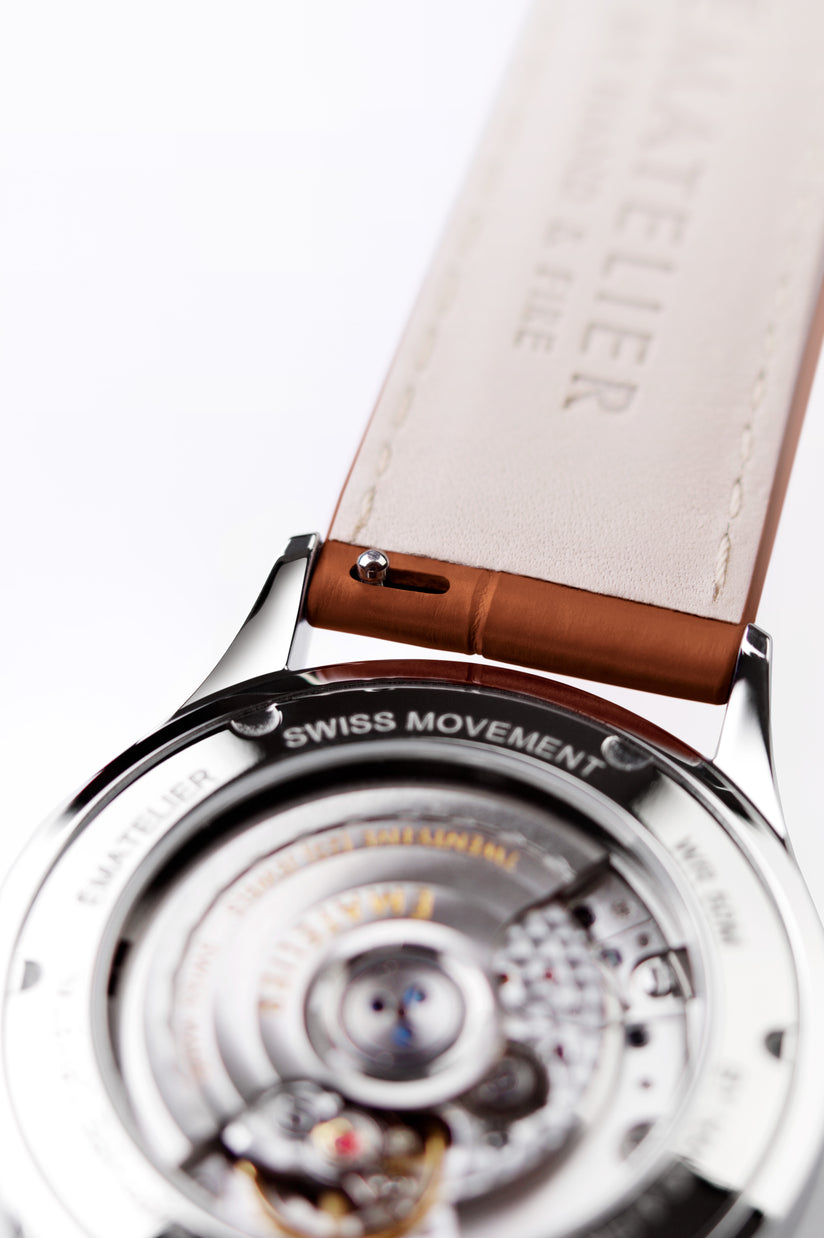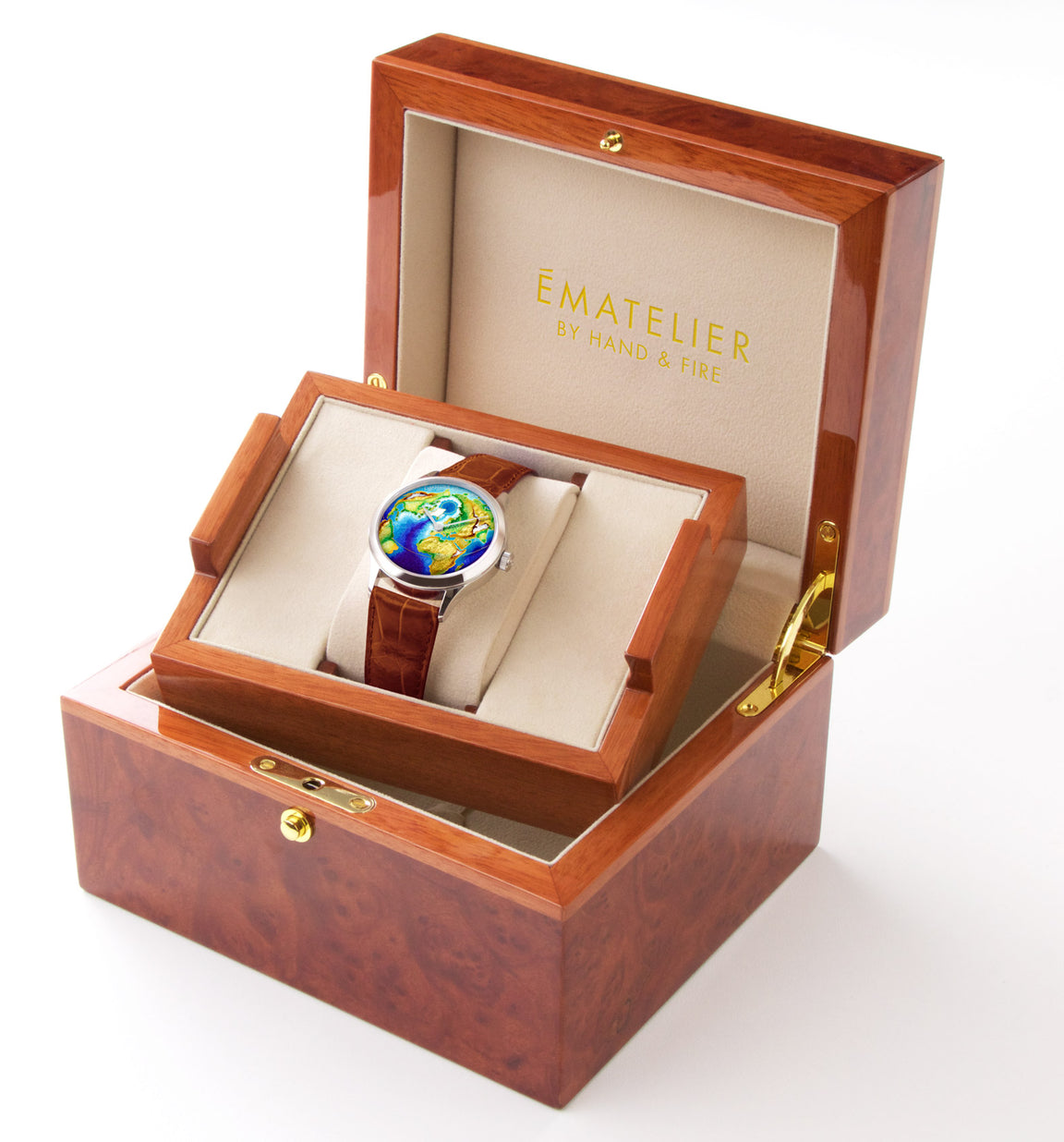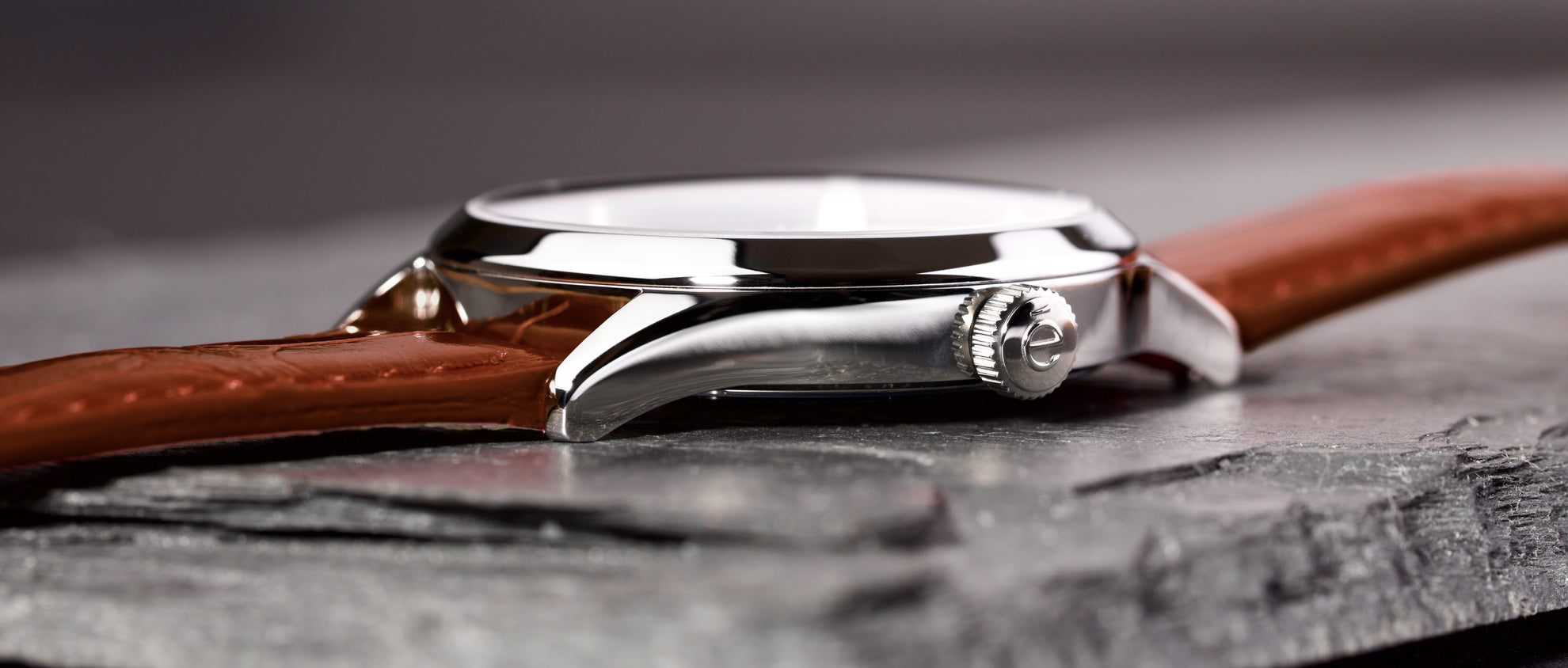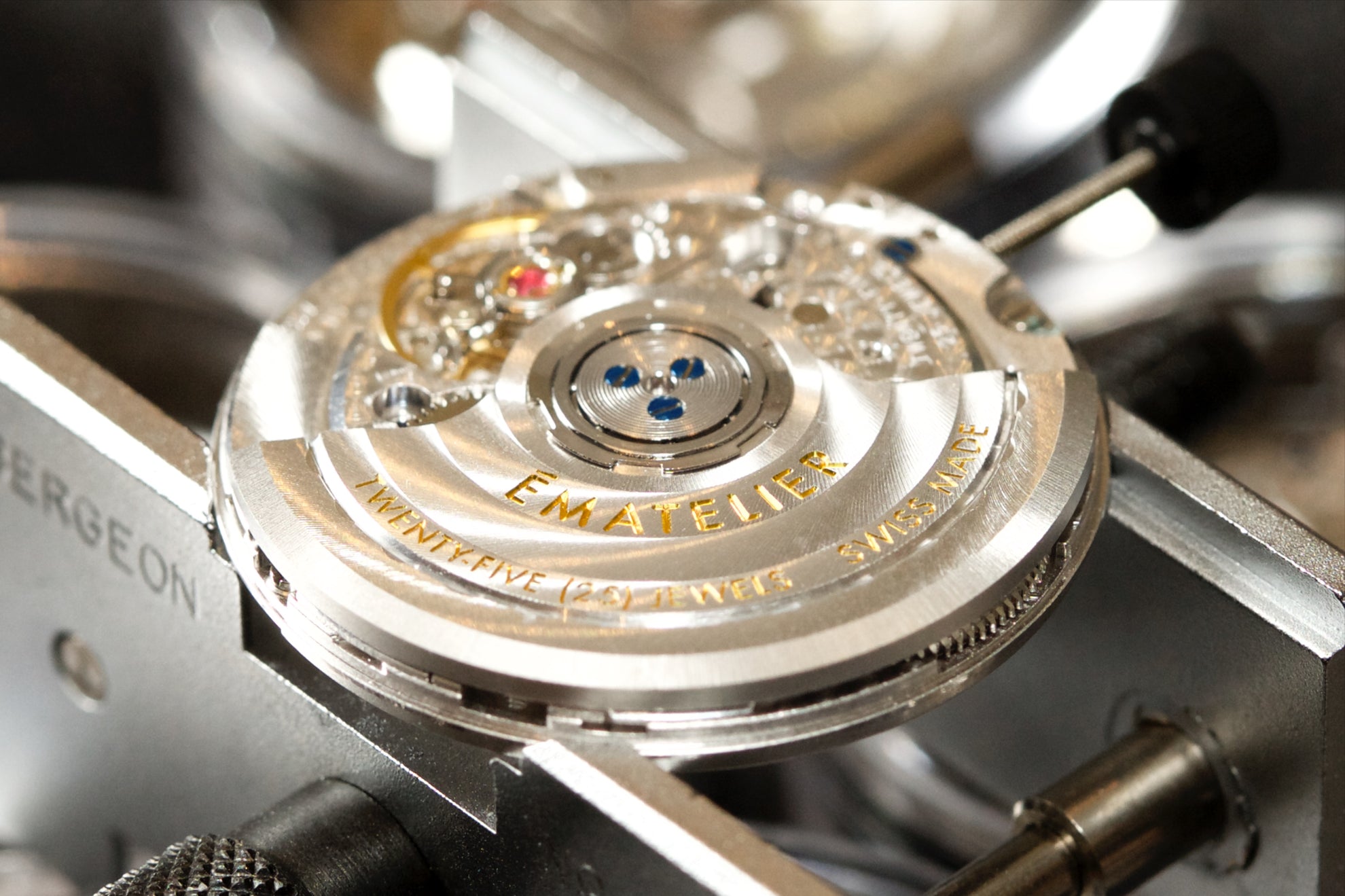 Technical Information: Atlas
Movement
Swiss Made Mechanical movement "Luxe Execution"
Automatic bidirectional winding
42-hour power reserve when fully wound
Hour setting with second stop
25 jewels
Custom decorations, Rhodium plated finish, Blue screws
28'800 vibrations per hour / 4 Hz
Fine tuning: "Assortment Chronometer", Average March (OH) +/- 4 s/j - s/d
Shock protection: Incabloc
Adjusted to five positions
Case
Material: German Surgical Stainless Steel "316L", hypoallergenic and resistant to corrosion, for contact with the skin
Diameter: 38.8 mm, height 10.2 mm
Hand polished
Curved Sapphire Crystal with anti-reflective coating
See-through Sapphire Crystal back
Water-resistance: 50 metres
Lug width: 20 mm
Dial
Cloisonné enamel
Twelve different enamel colors with 0.1 mm gold ribbon for partitions, Gold and Silver foils baked between multiple enamel layers
Length of the ribbon for partitions approximately 60 cm
Each dial takes from ten to twelve days of work by a master enameller
Eleven firings at temperatures from 750° to 800°C
Strap
Handmade 20 x 16 mm Alligator strap, manufactured in Italy
Cut from the central part of the alligator hide with large, regular scales, giving the strap a special look
Certified by CITES (the Convention on International Trade in Endangered Species of Wild Fauna and Flora)
Hides tanned using traditional natural methods without colourings, chrome, formaldehyde and pentachlorophenol, processed in compliance with current laws
Alzavel hypoallergenic lining
Hand painted edges with non-toxic paint
With Quick Release Pin allowing for easy swap of the strap with no tools
Hand polished stainless steel buckle engraved with Ématelier logo
Atlas is Ématelier's first stand-alone feature offering. The timepiece features a cloisonné enamel dial in combination with gold and silver foils. The face of the watch depicts the earth as seen from above.
Cloisonné is the technique of bending fine wire into intricate shapes, forming the outline of a design that is then filled with several layers of vivid enamel paint. Like miniature painting on enamel, cloisonné is a rarefied technique, with deep roots in the ancient world and a small, elite group of skilled modern artisans. Atlas is composed of cloisonné with the addition of delicate gold and silver foil.
Atlas is more than a simple painted rendition of the globe. It features detail that faithfully illustrates geographical characteristics of the earth, like elevation and water depth. In concert with the finely woven cloisonné and gold and silver foils, the enamel painting has visual depth and a unique three-dimensional effect.
By hand and fire, each timepiece is wrought with the finest materials and multiple layers of specially selected enamel paint. Completing a timepiece requires ten firings in an 800 degree Celsius kiln and many hours of labour — a labour of love for the exclusive group of artisans that can boast proficiency in both cloisonné and enamel painting.