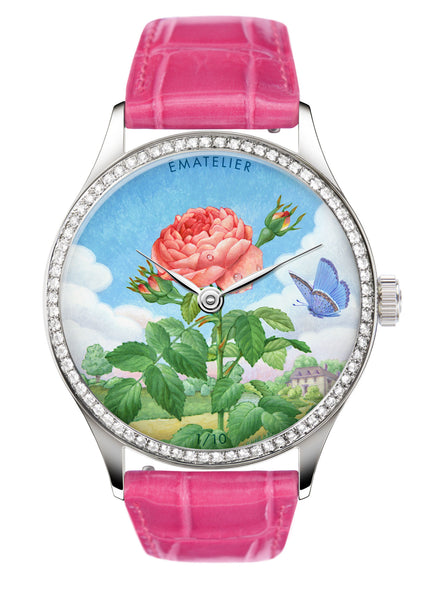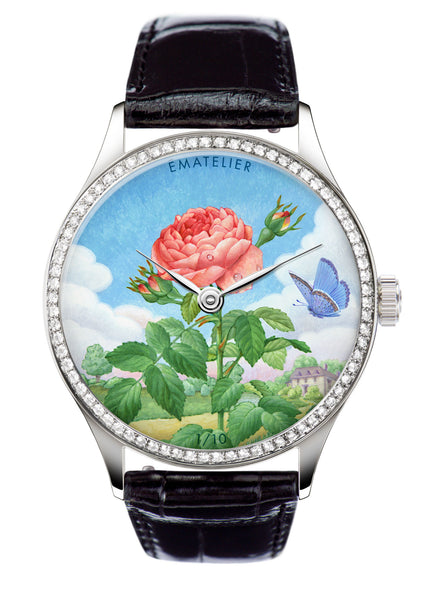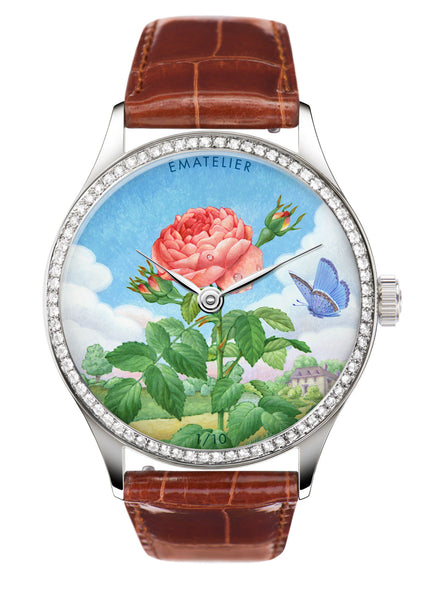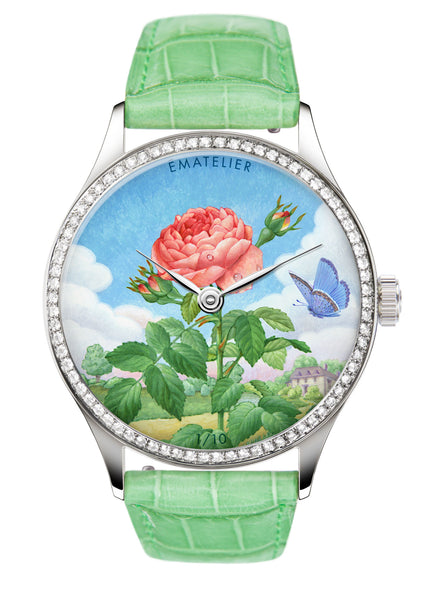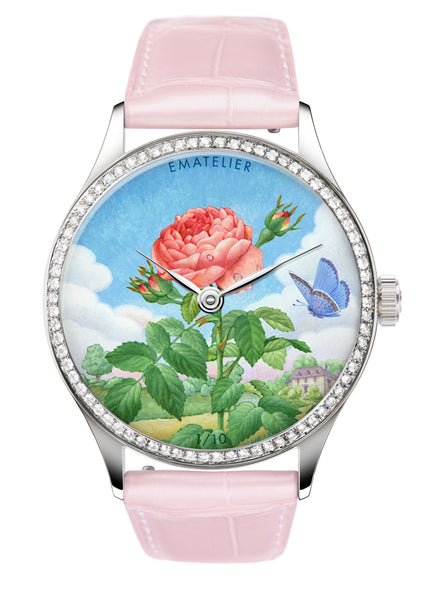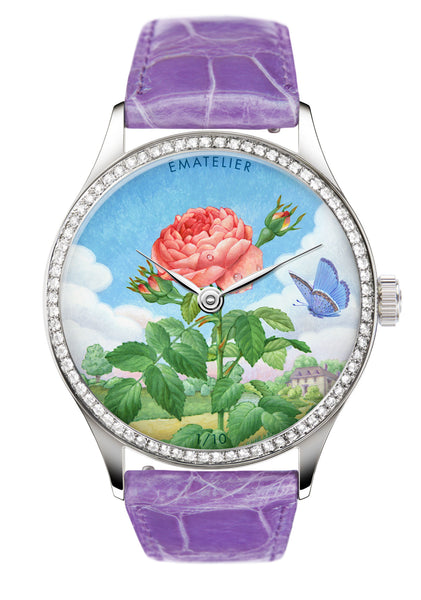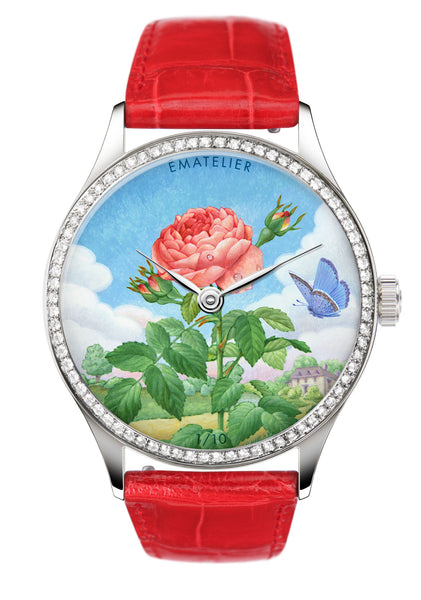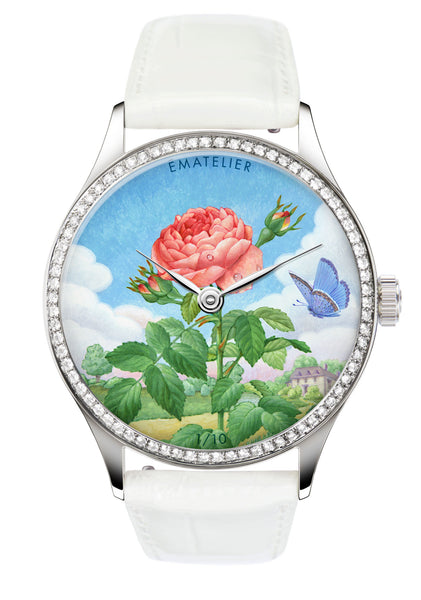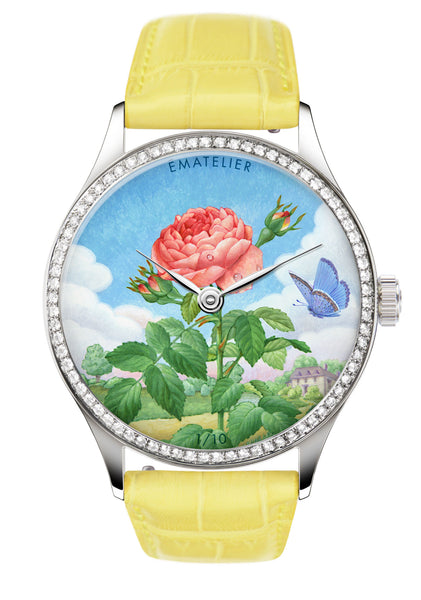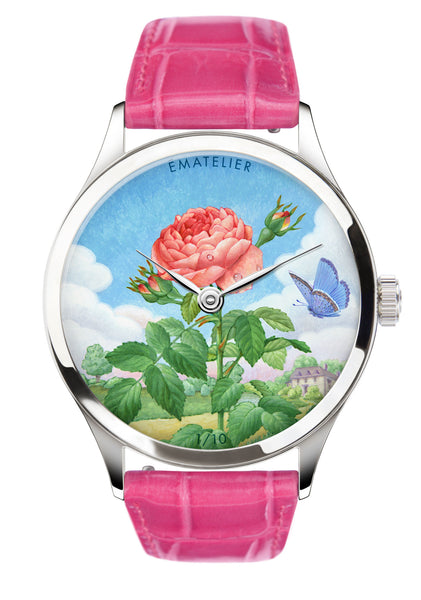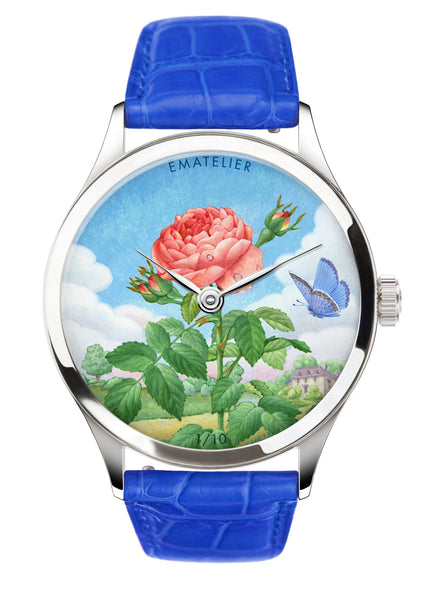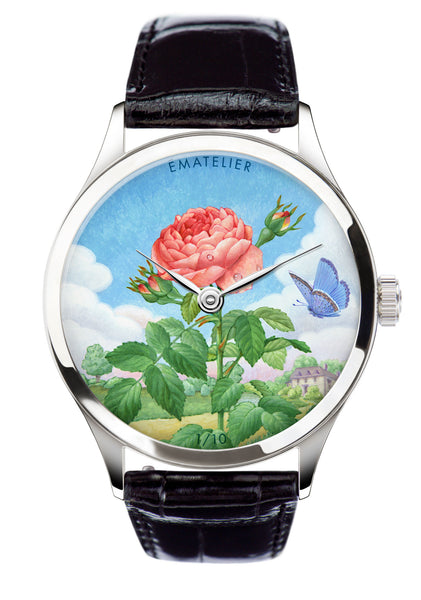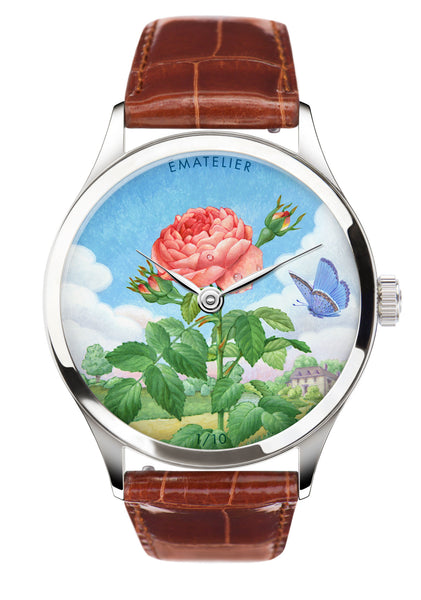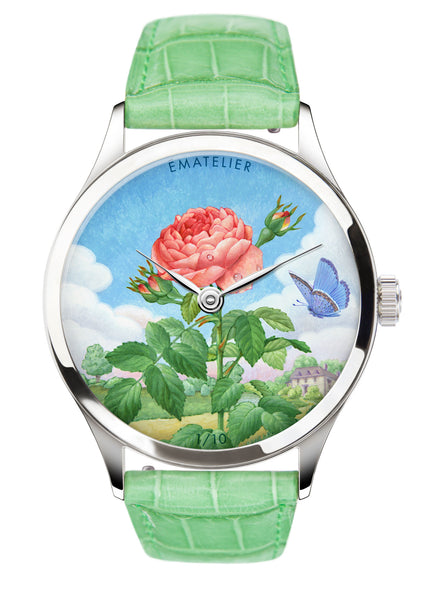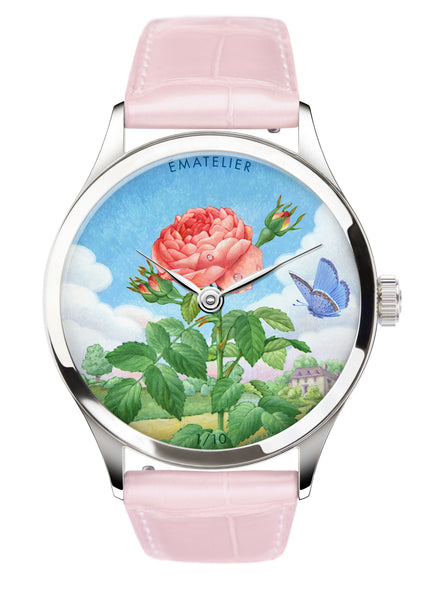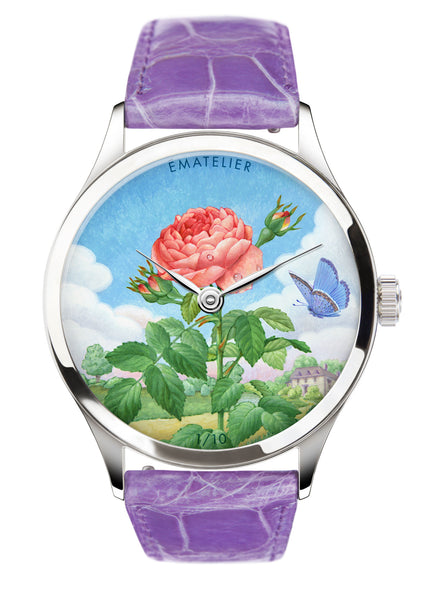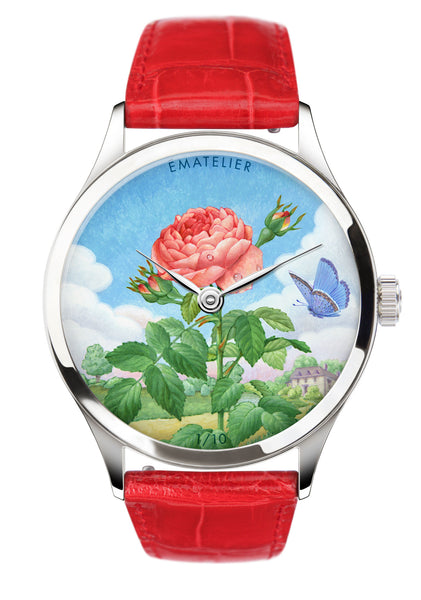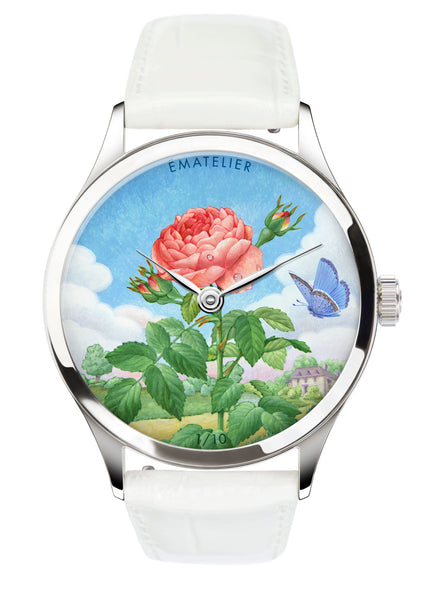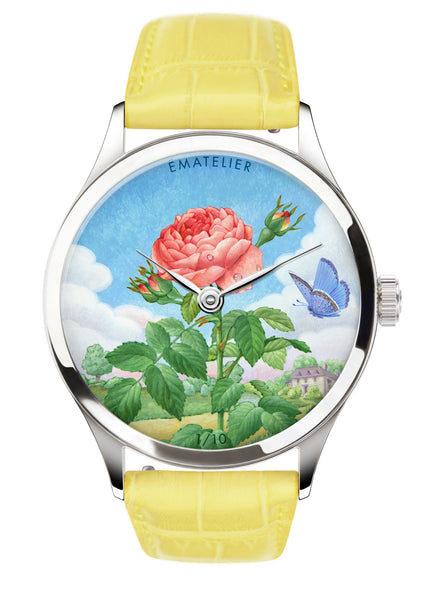 No flower can compete with the rose when it comes to universal recognition. An enduring symbol of love and beauty, the rose appears in literature, music, and religious iconography throughout Europe and the Middle East. Offering a rose as a gift leaves the receiver no guesswork with regard to its meaning. While a bouquet will eventually wilt, a rose set in enamel will last forever.
Movement
Swiss Made Mechanical movement "Luxe Execution"
Automatic bidirectional winding
42-hour power reserve when fully wound
Hour setting with second stop
25 jewels
Custom decorations, Rhodium plated finish, Blue screws
28'800 vibrations per hour / 4 Hz
Fine tuning: "Assortment Chronometer", Average March (OH) +/- 4 s/j - s/d
Shock protection: Incabloc
Adjusted to five positions
Case
Material: German Surgical Stainless Steel "316L", hypoallergenic and resistant to corrosion, for contact with the skin
Diameter: 38.8 mm, height 10.2 mm
Hand polished
Curved Sapphire Crystal with anti reflective coating
See-through Sapphire Crystal back
Water-resistance: 50 metres
Lug width: 20 mm
Optional Diamond Bezel
74 excellent cut diamonds
Total diamond weight approximately 0.90 Cts
Professionally set in German surgical stainless steel bezel
Dial
Miniature enamel painting
Each dial takes from seven to ten days of work by a master enameler
Geneva Technique finish: multiple layers of clear enamel for a perfectly smooth protective coating and vivid colors
10 Firings at temperatures from 750° to 800°C
Strap
Handmade 20 x 16 mm Alligator strap, manufactured in Italy
Cut from the central part of the alligator hide with large, regular scales, giving the strap a special look
Certified by CITES (the Convention on International Trade in Endangered Species of Wild Fauna and Flora)
Hides tanned using traditional natural methods without colourings, chrome, formaldehyde and pentachlorophenol, processed in compliance with current laws
Alzavel hypoallergenic lining
Hand painted edges with non-toxic paint
With Quick Release Pin allowing for easy swap of the strap with no tools
Hand polished stainless steel buckle engraved with Ématelier logo
Inspiration: Harmony Collection
Enamel painting lies at the juncture of science and fine art, a theme echoed by the botanically accurate floral designs adorning each Ématelier watch. A finished enamel dial is the product of immense technical proficiency married to an artist's finesse. That is why enamelists, a rare, elite group of artisans, sit near the top of the watchmaker hierarchy.
Ématelier's inaugural collection is designed specifically for women, featuring ten widely cherished flowers on intricate natural backdrops. By hand and fire, each work of art is conceived in enamel's characteristically vivid hues. Layer by layer, the dials are painted under a microscope and fired in a kiln at temperatures exceeding 800 degrees Celsius. Each piece undergoes as many as ten successive firings.
Most enamel art can only be seen behind the glass of a display case. Ématelier pieces are thus not only lasting heirlooms but worthy conversation pieces – the products of an extraordinarily rare art form with a history stretching back more than sixty generations.
With fresh designs and a reverence for history, Ématelier proudly continues the tradition.