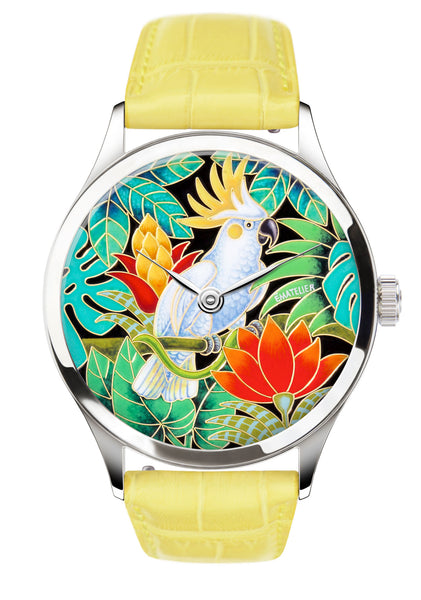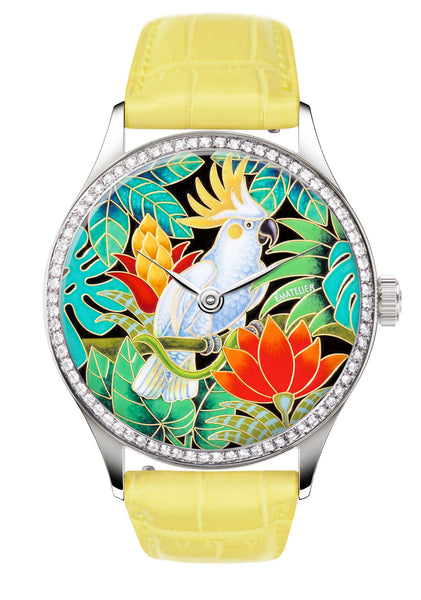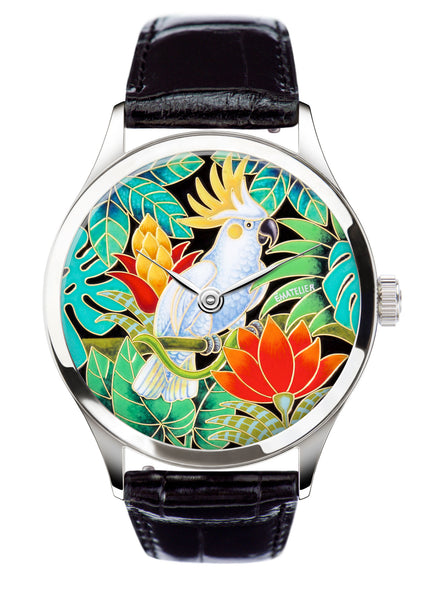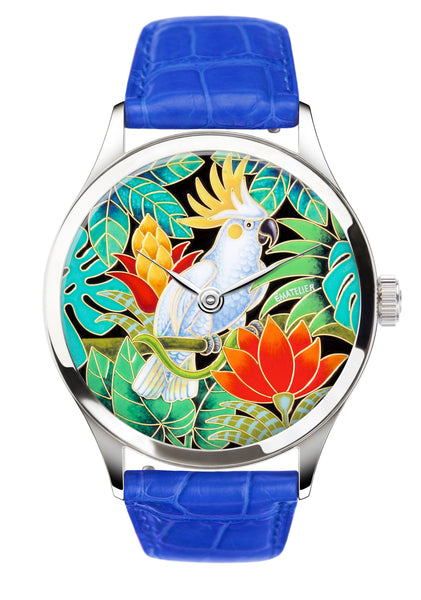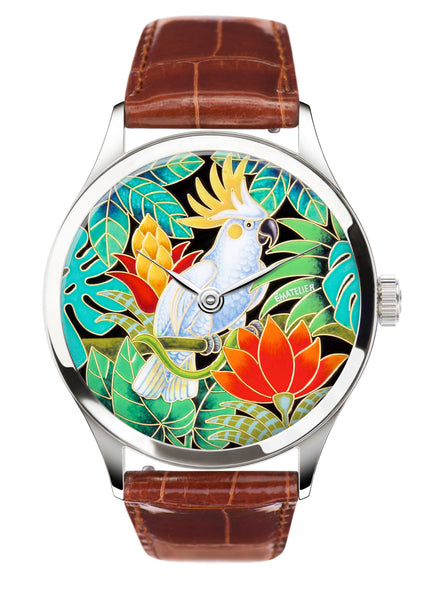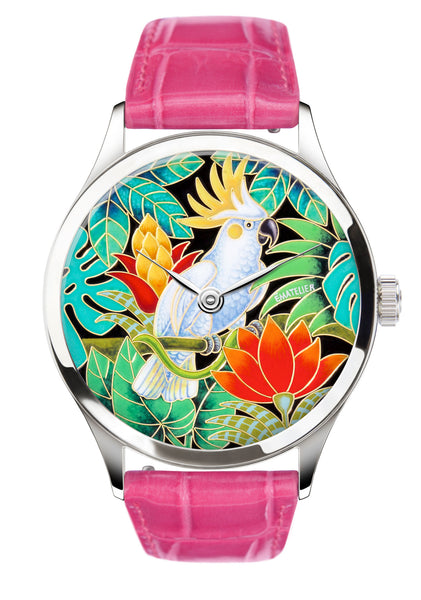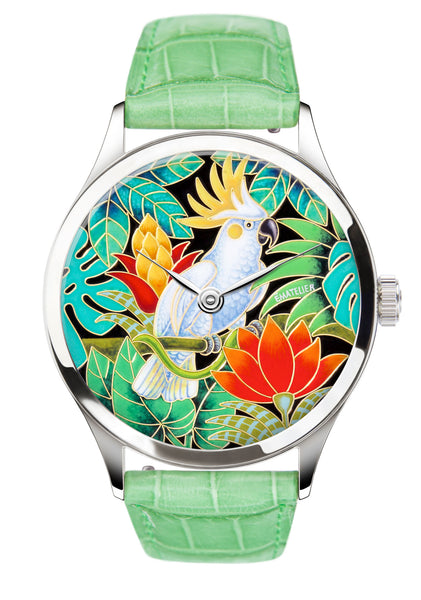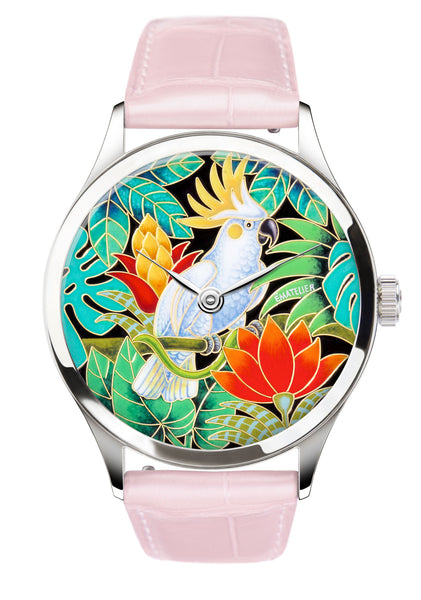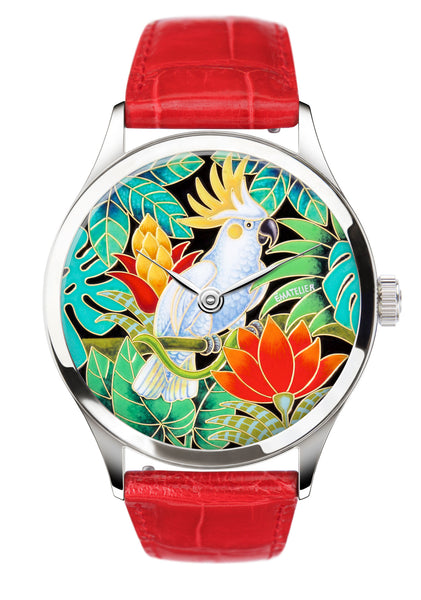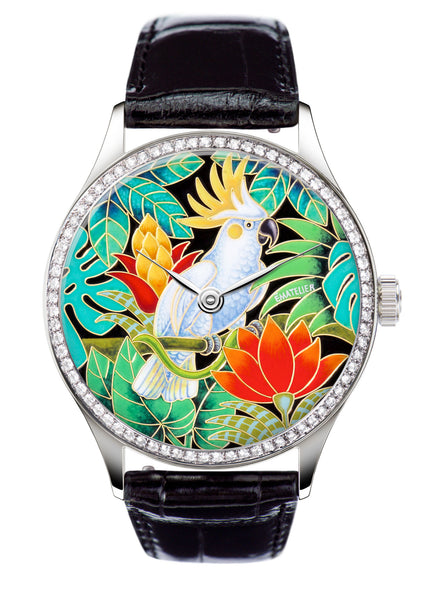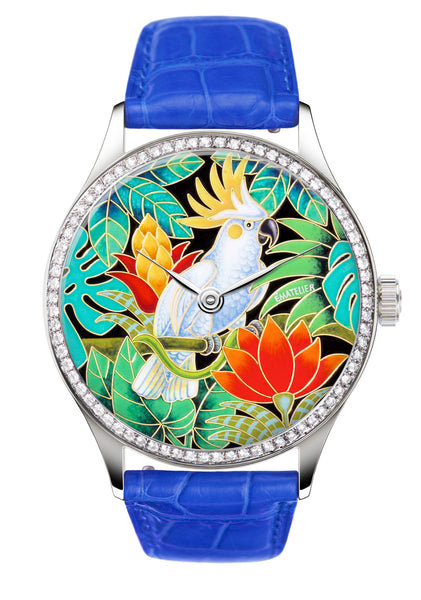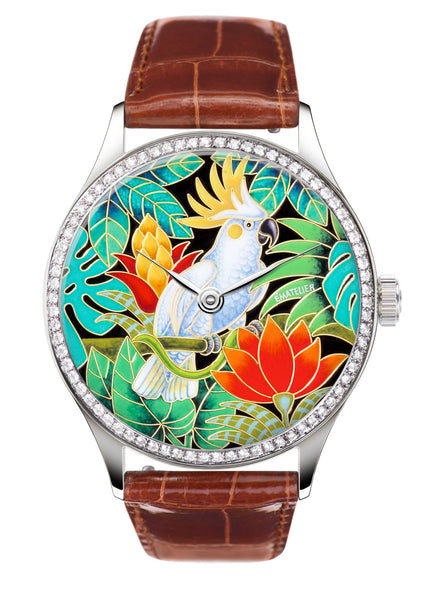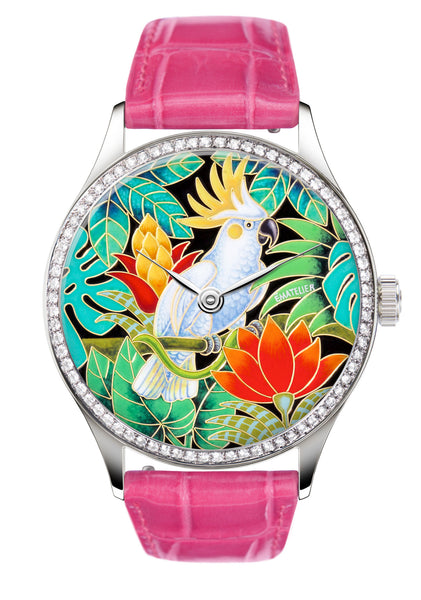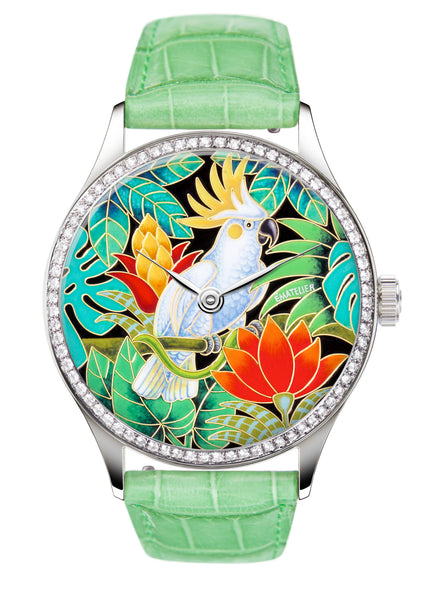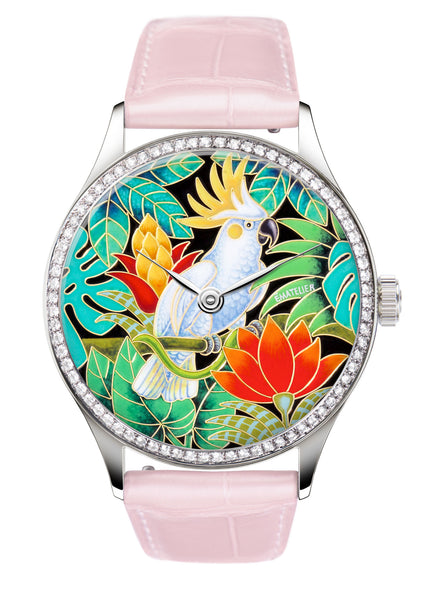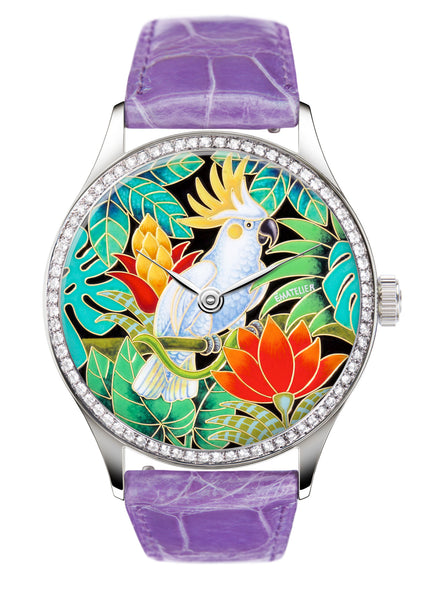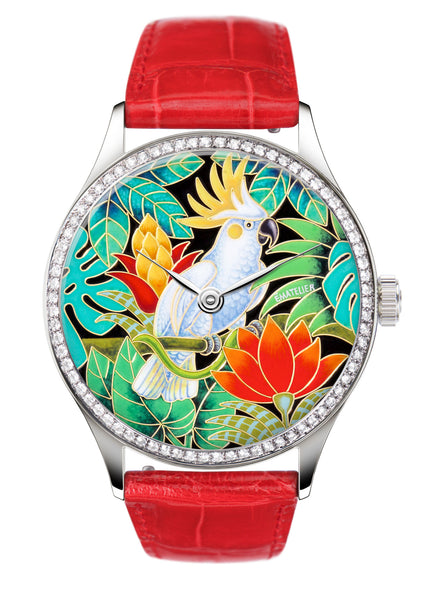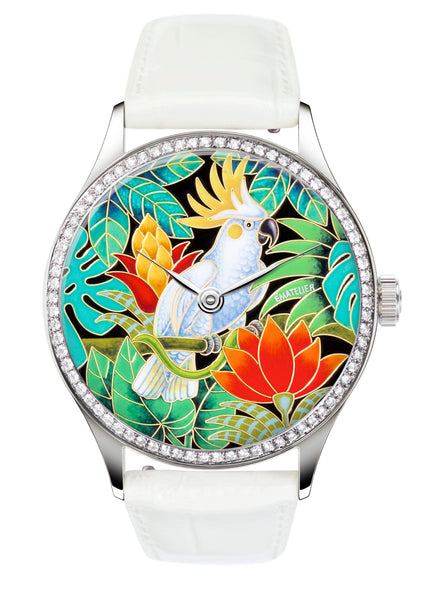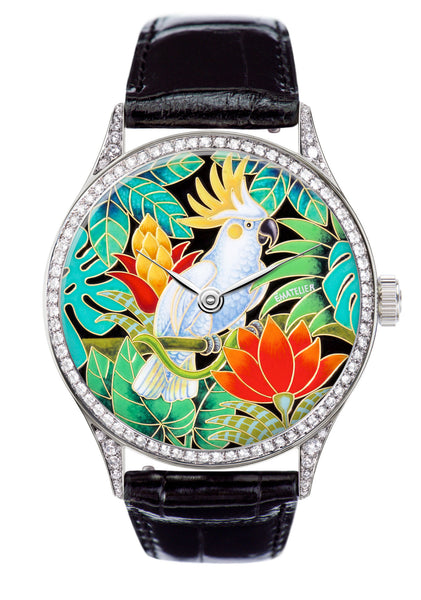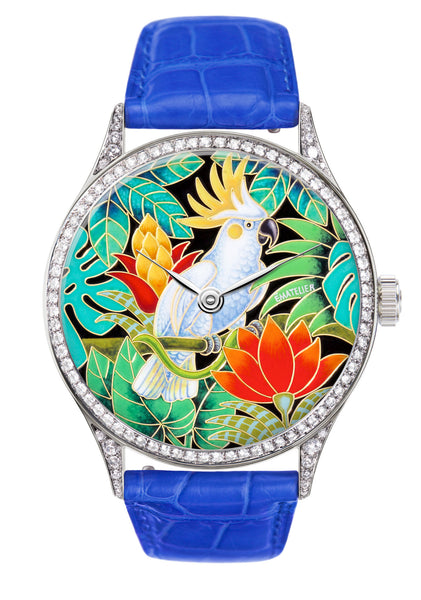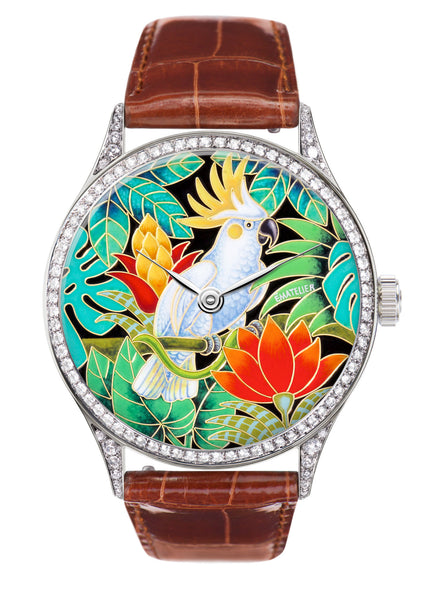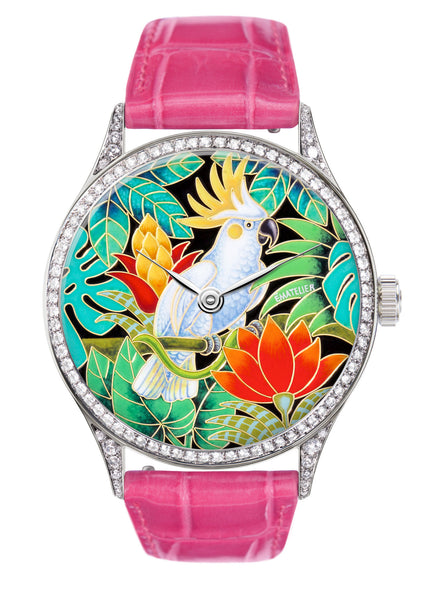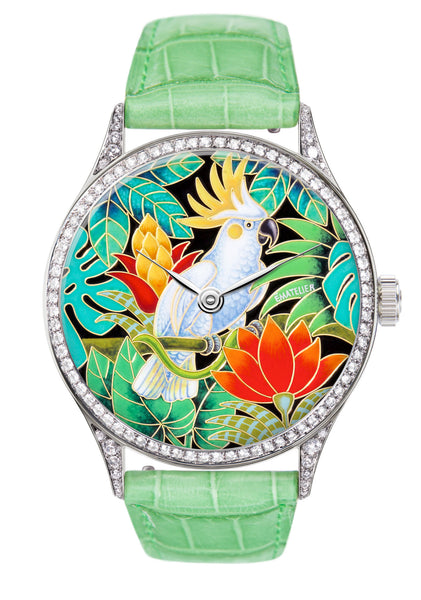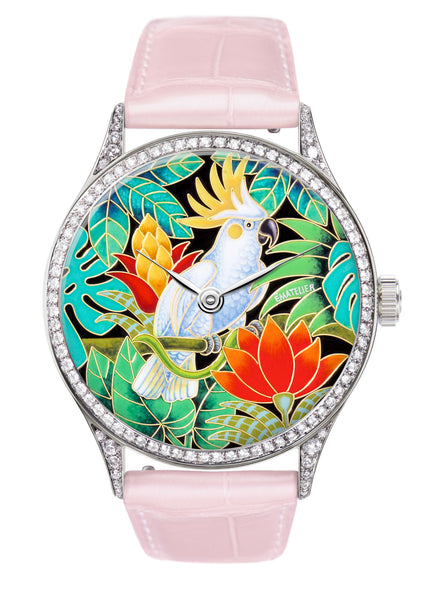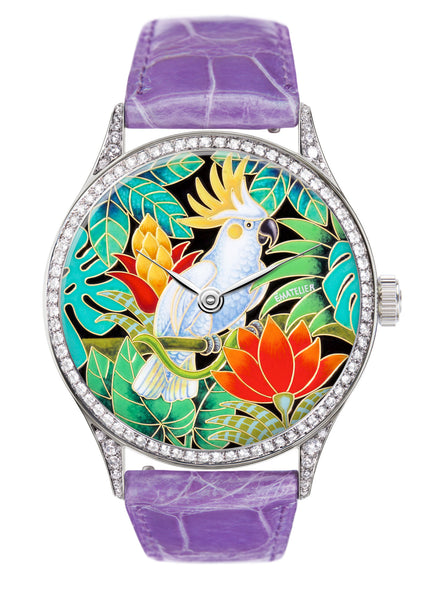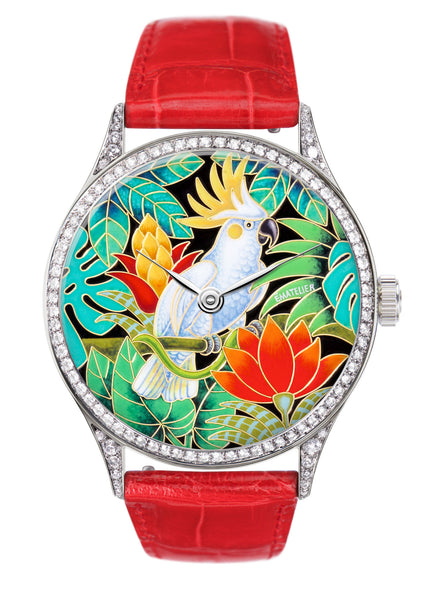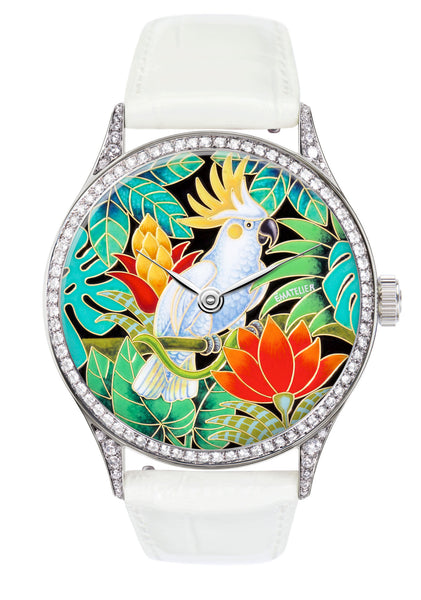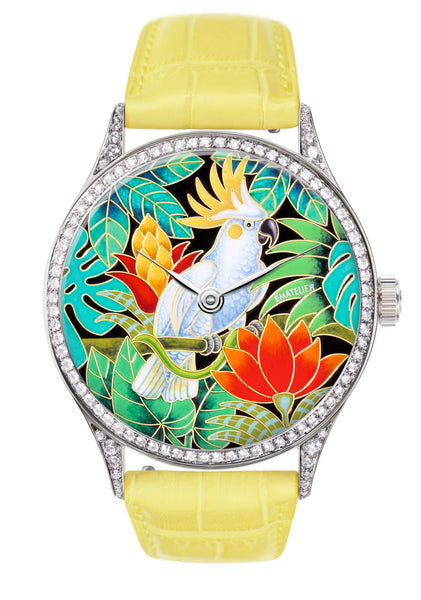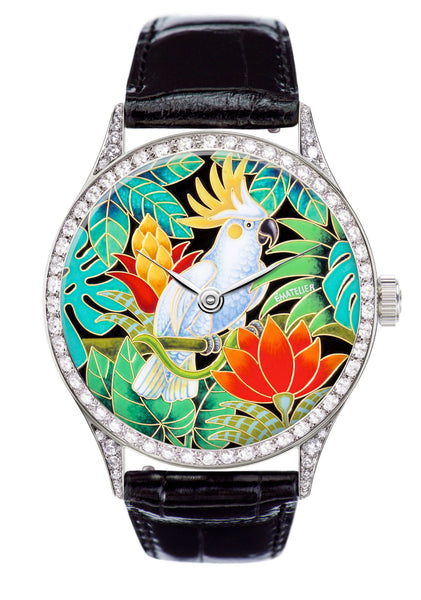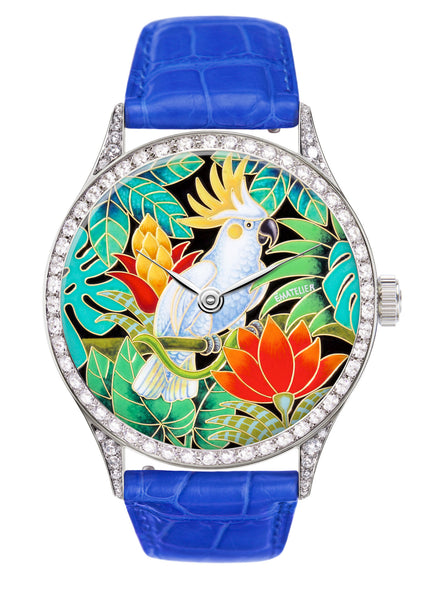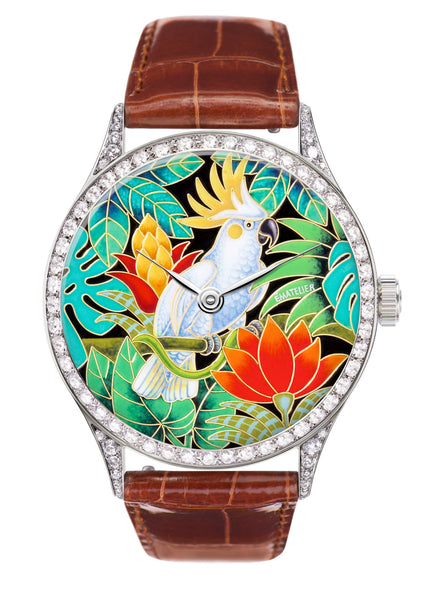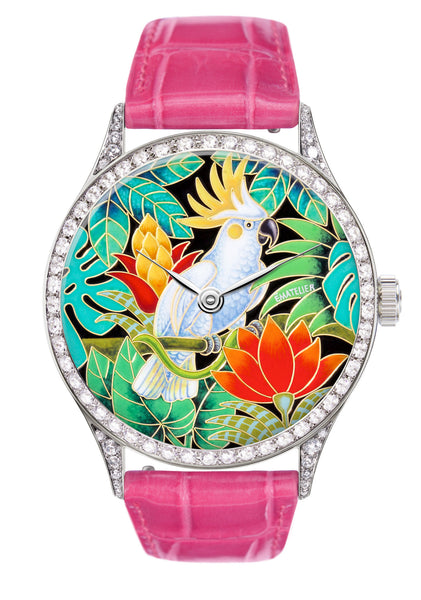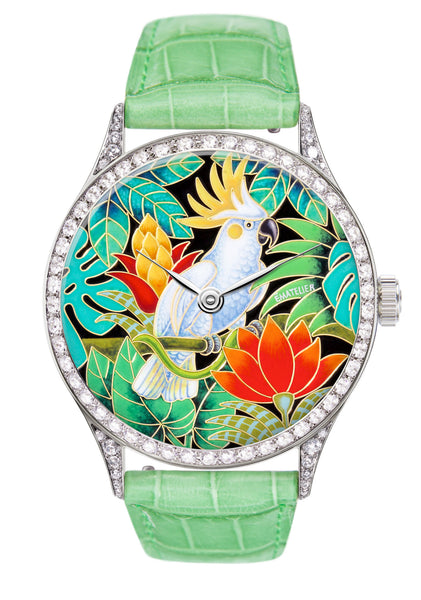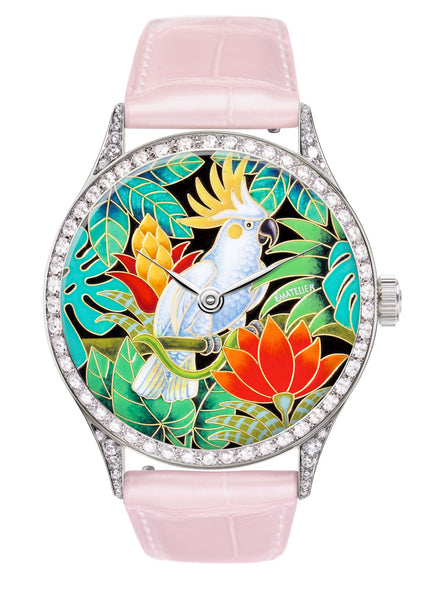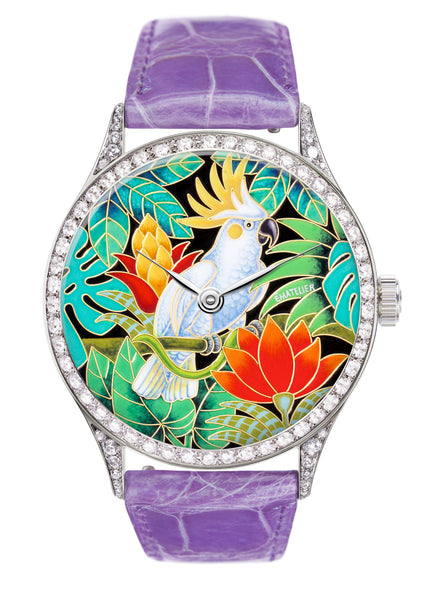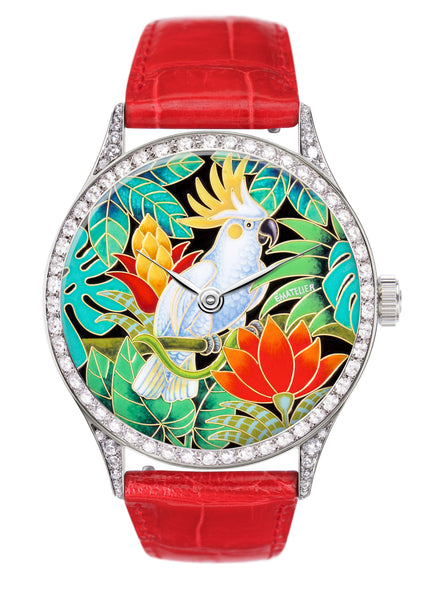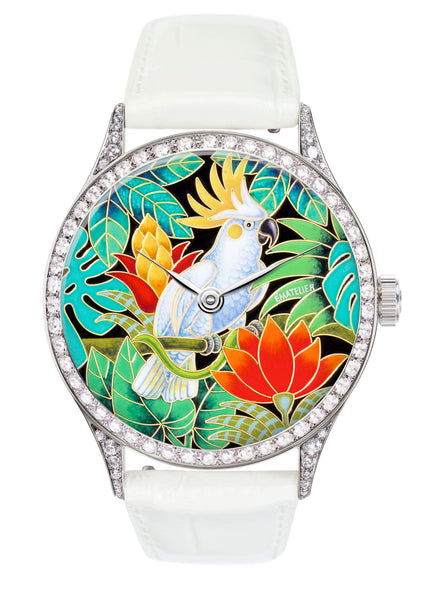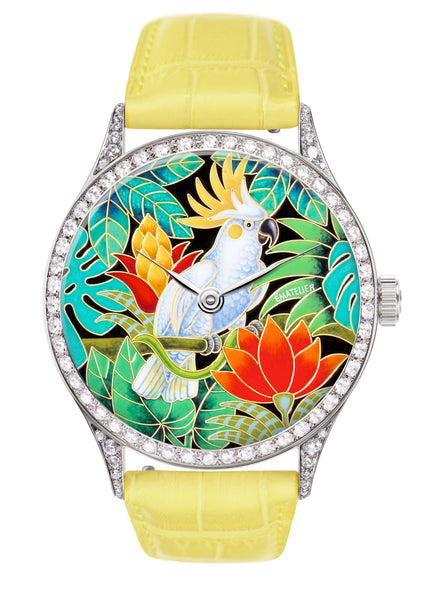 The clever, nomadic cockatoo is social, energetic, and an expert songbird specializing in whistling. The sulphur-crested cockatoo is easily recognizable by its pure white plumage and the brilliant crest of feathers on its head. Besides its beauty, the crest is a signal revealing the bird's state of mind — here, the upright feathers signify that it is watchful and alert. Our cockatoo perches between richly coloured leaves and flowers made luminous by gold cloisonné enamel.
Technical Information: Luxury Watch with Cloisonné Enamel Dial
Movement
Swiss Made Mechanical movement "Luxe Execution"
Automatic bidirectional winding
42-hour power reserve when fully wound
Hour setting with second stop
25 jewels
Custom decorations, Rhodium plated finish, Blue screws
28'800 vibrations per hour / 4 Hz
Fine tuning: "Assortment Chronometer", Average March (OH) +/- 4 s/j - s/d
Shock protection: Incabloc
Adjusted to five positions
Case
Material: German Surgical Stainless Steel "316L", hypoallergenic and resistant to corrosion, for contact with the skin
Diameter: 38.8 mm, height 10.2 mm
Hand polished
Curved Sapphire Crystal with anti reflective coating
See-through Sapphire Crystal back
Water-resistance: 50 metres
Lug width: 20 mm
Optional Diamond Bezel
74 excellent cut diamonds
Total diamond weight approximately 0.90 Cts
Optional Diamond Lugs
32 excellent cut diamonds
Total diamond weight approximately 0.40 Cts
Dial
Cloisonné enamel
Eight to eleven different enamel colors with 0.1 mm gold ribbon for partitions
Length of the ribbon for partitions approximately 70 cm
Each dial takes from eight to ten days of work by a master enameller
Ten Firings at temperatures from 750° to 800°C
Strap
Handmade 20 x 16 mm Alligator strap, manufactured in Italy
Cut from the central part of the alligator hide with large, regular scales, giving the strap a special look
Certified by CITES (the Convention on International Trade in Endangered Species of Wild Fauna and Flora)
Hides tanned using traditional natural methods without colourings, chrome, formaldehyde and pentachlorophenol, processed in compliance with current laws
Alzavel hypoallergenic lining
Hand painted edges with non-toxic paint
With Quick Release Pin allowing for easy swap of the strap with no tools
Hand polished stainless steel buckle engraved with Ématelier logo
Inspiration: Kingdom Collection
Rich colour that retains its pigment for millennia is the hallmark of enamel art. What better medium to capture the vibrant resplendency of the animal kingdom than enamel with an accent of gold cloisonné?
Cloisonné is the technique of bending fine wire into intricate shapes, forming the outline of a design that is then filled with several layers of vivid enamel paint. Like miniature painting on enamel, cloisonné is a rarefied technique, with deep roots in the ancient world and a small, elite group of skilled modern artisans.
The Kingdom Collection, Ématelier's second offering, features five renditions of wild animals — the jaguar, zebra, giraffe, cockatoo, and lovebird. Botanically accurate floral designs surround each beast, echoing the theme of our inaugural collection, which likewise drew on the artistry inherent in the natural world.
By hand and fire, each timepiece is wrought with fine gold wire and up to ten layers of specially selected enamel paint. Completing a timepiece requires multiple firings in an 800 degree Celsius kiln and many hours of labour — a labour of love for the exclusive group of artisans that can boast proficiency in both cloisonné and enamel painting.